Our ultimate guide and in-depth look at (one of) the most formal ways to dress, black tie. We cover all aspects of the subject, from the origins of black tie to a guide on how to wear it with personality. If you have a glamorous occasion to attend, pull up a chair and read on to become an expert in formal dressing.
CONTENTS
RAMPLEY & CO SHORTS
For a quick insight, look no further than our shorts. They're concise and informative; the answer to any sartorial question in 60 seconds or less. 

WHAT IS BLACK TIE?
Our video with stylist Chris Modoo is an in-depth look at (one of) the most formal ways to dress, black tie. We cover all aspects of the subject, from the origins of black tie to a guide on how to wear it with personality, all in under 7 minutes. If you have a glamorous occasion to attend, sit back and enjoy this video as you become an expert in formal dressing. 
THE HISTORY OF BLACK TIE
In the early 19th century, men's formal attire consisted of tailcoats and white ties, known as white tie dress. However, as the century progressed, new styles emerged, including the dinner jacket, which eventually became the basis for black tie.
Two Gentlemen in white tie, the predecessor of black tie. Credit: unknown, source: howtobeswell.com.
The dinner jacket was first worn by the Prince of Wales (later King Edward VII) in the 1860s, initially born out of practicality as he wanted to wear a shorter jacket when on a yacht. This style of shorter jacket evolved into a form of eveningwear; the jacket was made of black or dark blue cloth, and had silk-faced lapels. 
 Edward VII wearing a shorter Jacket, the beginnings of black tie. Credit: unknown, source: husbands-paris.com.
The black tie dress code became popular in Britain in the 1920s and 1930s when it was adopted by the upper classes as the standard for formal evening wear. It was also worn by members of the military, who wore it with medals and decorations.
During World War II, black tie fell out of fashion, as the austerity of the war years made it difficult to obtain the necessary clothing. However, it regained popularity in the post-war period, and by the 1950s, it had become the standard dress code for formal events in Britain.
Today, black tie has evolved to include variations on the classic style, such as different colours and fabrics for the jacket and trousers, as well as different styles of shirts and accessories. However, the basic elements of the dress code remain the same, and black tie is still considered the standard for formal evening wear.

HOW TO WEAR BLACK TIE?
Black tie today doesn't differ drastically from the iconic styles of the last century. For a classic black tie look, there are a few simple rules to follow:
BLACK TIE SHIRTS
For an overtly traditional look, you can opt for a Wing Collar shirt as seen in our reference images of the historic white tie look, this technically doesn't fall into black tie dressing today but will ensure you stand out at an event. 
Simply speaking, you can't go wrong with a classic white shirt with a turn-down collar. The only features of a good black tie shirt to look for are, if the collar can accommodate a bow tie and ideally a double cuff for cufflinks.
However, if you wish to own a dedicated evening shirt you'll need to look for a shirt with texture, either made from a Marcella fabric, featuring a bid front or pleats, for an added luxurious interest.
BLACK TIE SHOES
Classically, black tie shoes would be black patent oxfords, however, more recently pumps are growing in popularity alongside velvet slippers, in a nod to the more lounge/smoking jacket era of men's fashion. 
If you don't own dedicated evening shoes, a classic pair of black oxfords, well polished, won't look out of place at a black tie evening.
BLACK TIE POCKET SQUARES
So, what pocket square should you wear for black tie events? In our opinion, you should always wear a pocket square with black tie. An addition of a square will help to visually break up the, mostly, black look and help draw attention to design features such as the lapels.
For a classic look, opt for a white linen pocket square and conservatively fold it into a flat fold. To show off more of the square we'd opt for a three-point fold which holds more architectural interest.
But must you wear only white squares for black tie? Whilst it's not the traditional way to dress, we think that a coloured square can elevate a formal look.
ADDING COLOUR TO BLACK TIE
Aside from your coloured square there are other ways to inject a little colour into this typically monochromatic ensemble. Coloured socks can be an elegant option if you choose a rich and dark colour such as a plum or burgundy, alternative they can be a playful pop with a much more vibrant option.
On the red carpet, we've seen the very definition of black tie pulled and played with as stylists have opted for wild and exciting colours and patterns. Although they are far removed from the traditional outfit, these looks still sit in the realms of black tie as they've adhered to some of the key visual pillars which keep them identifiable as black tie.  
THE BOW TIE
For us, the classic black bow tie is untouchable. While we can accommodate numerous playful iterations of classic black tie dress, what ultimately labels a look "black tie" is the very namesake item itself. When selecting your bow tie of choice, as long as it's black, ensure that you choose a self-tying option for an authentic look.
UNDERSTANDING MODERN BACK TIE
Our friend Mickael Korausch of La Bowtique has written the definitive guide on contemporary black tie. If you have any questions left on the subject or are looking for more inspiration, look no further.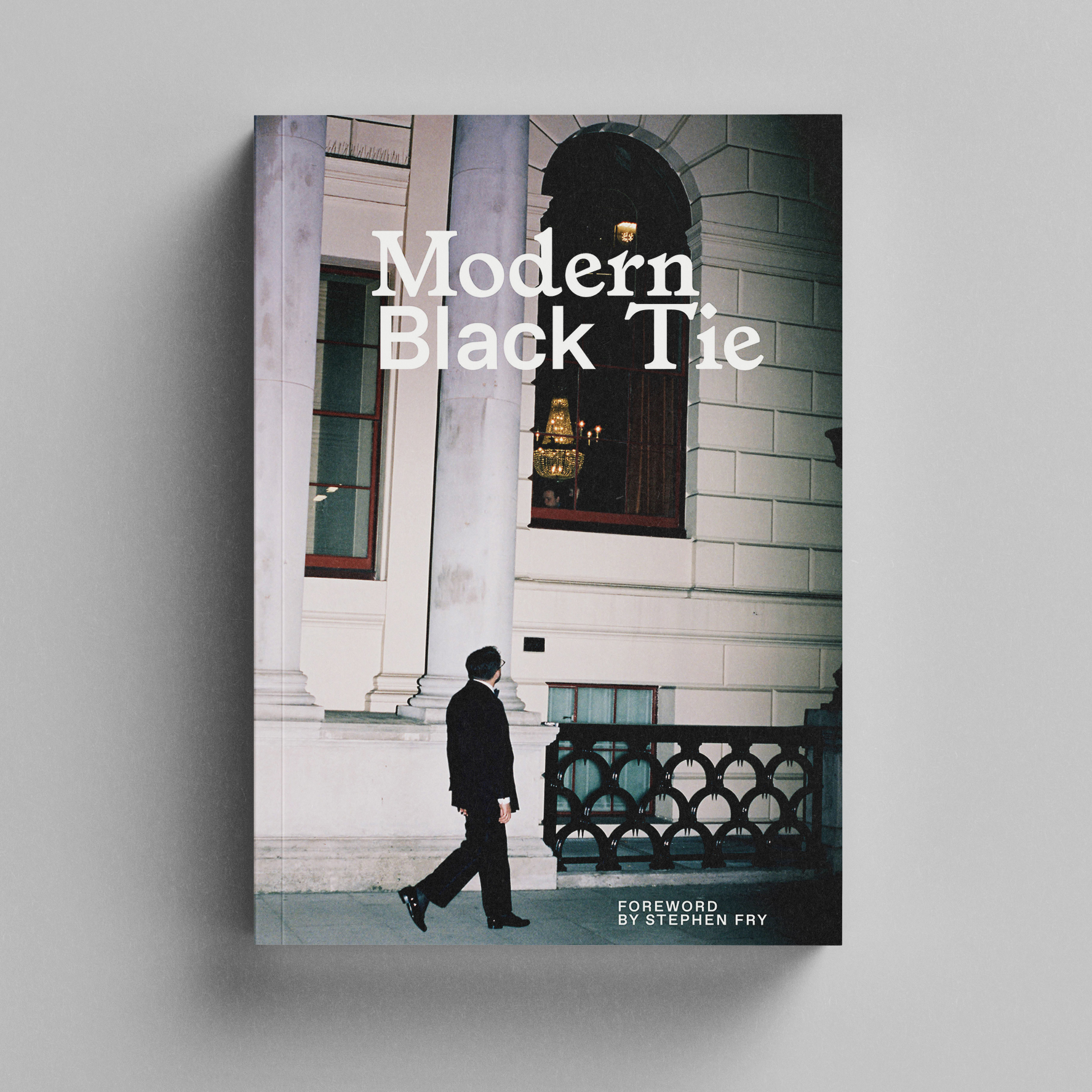 VELVET SMOKING JACKETS
the history of the smoking jacket
An iconic symbol of men's fashion from past eras, the smoking jacket represents a pinnacle of traditional dress combined with ultimate luxury. We dive into the history of the smoking jacket and its influence on modern designs.

The smoking jacket, also known as a dinner jacket or a lounge jacket, was originally designed to be worn while smoking tobacco. The history of the smoking jacket can trace back to the 19th century when smoking became a popular pastime among the aristocracy in Europe...
how to wear a smoking jacket

THE RAMPLEY & CO BLACK TIE COLLECTION
We've paid homage to the essence of black tie with a modern and curated collection suitable for any special occasion.
---